Reflections on 2022
Posted 27th January 2023 by Professor Austin Burt
2022 was a busy year for Target Malaria, and I am pleased to share some of our highlights. Important milestones were achieved both within our project and by our partners working on malaria, and I feel proud to be part of such a dynamic and inspiring community with a mission to end malaria.
I want to start by celebrating the achievements of my colleagues. Target Malaria team members have now published over 200 publications since 2005. Our African Principal Investigators were included in Vox's Future Perfect 50 list, which features ideas, policies, and programs that are bending the future toward a more perfect destinations. Professor Abdoulaye Diabaté was awarded Officer of Academic Palms by the Ministry of Research in Burkina Faso. Dr. Lea Pare Toe and Krystal Birungi were awarded with the Women in Vector Control (WIVC) Excellence Awards by the Pan-African Mosquito Control Association (PAMCA). In September, Krystal Birungi also spoke at the Global Fund Replenishment Conference.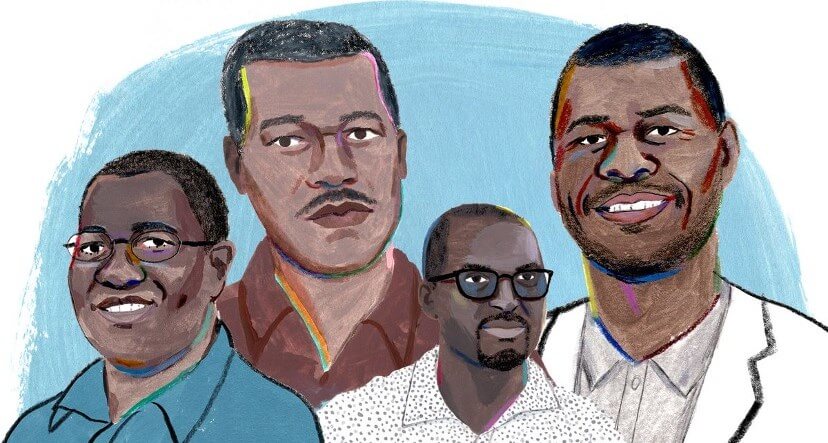 Our in-country teams also made progress on many exciting projects.
Burkina Faso received in March a batch of genetically modified male bias mosquito eggs from PoloGGB, our collaborating partner in Italy. These mosquitoes do not carry gene drive technology, are fertile and are modified to mainly produce male offspring. This strain had previously been created and characterised in our London labsi, and introgressed into a Burkinabe genetic background in the Italian labii. Importation of this strain into Burkina Faso marks a milestone for our project as it is the second strain of genetically modified mosquitoes imported into Africa. You can view the video of the import here and read more about the importation here in a blog written by Professor Diabaté. The Burkina team also published the results from the previous release of a male sterile non-driving modified line.iii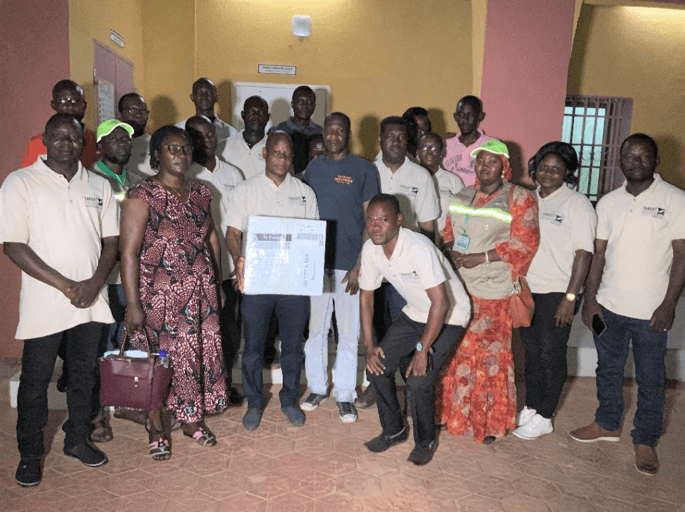 You can watch the team receive the shipment below:
Ghana continued their ecological observatory studies and completed the sampling of invertebrates in the project communities, who shared some of the species' local names. The team is now sampling potential predators of Anopheles mosquitoes, such as bats, birds, spiders, damsel flies, and praying mantises.
In Mali, the team partnered with the Malian Academy of Languages (AMALAN) to carry out workshops focused on translating our molecular biology terms into Bamanankan, which is spoken by 80% of Mali's population.
The team in Uganda took part in the Uganda National Biosafety Forum where Dr. Jonathan Kayondo delivered a presentation. Dr. Kayondo also presented on emerging health technologies in Africa to parliamentarians at the orientation workshop for policy makers at an event hosted by the Centre for Policy Analysis (CEPA). They also published a paper on the life history of Anopheles mosquitoes in Ugandaiv.
In the UK, the team participated in the Great Exhibition Road Festival featuring live mosquitoes in a cage, molecular microscope demos, and games on how gene drive works.
In 2021 the Target Malaria risk and regulatory specialists published the first systematic analysis of plausible pathways to potential harm for a population suppression gene drive to control malaria mosquitoes in West Africa, and in 2022 followed this up by collaborating with external experts to formulate recommendations for environmental risk assessmentv and 'points to consider' in seeking biosafety approval to work with gene drive organismsvi; and offer some deeper reflections on the "Target Organism" when a species complex is involvedvii.
Stakeholder Engagement is one of Target Malaria's three pillars, and this year we published a paper articulating our ethical principles guiding Target Malaria's Stakeholder Engagement strategyviii, another on how we operationalise those principles in the fieldix, and a third on building a common understanding with people living in the villages where we workx.
Other papers published in the last year range from one on computer modelling of alternative genetic control strategies to others on the practicalities of setting up an insectary for genetically modified mosquitoes in Africaxi and of transporting genetically modified mosquitoes between countriesxiixiii, and yet another on competitive mating success within and between populationsxiv.
In addition to our publications, we also ran a training course on gene drive in conjunction with the Pan-African Mosquito Control Association (PAMCA) conference in Rwanda, and participated in multiple social media campaigns throughout the year:
For International Women's Day, we took part in the #BreakTheBias campaign alongside our RBM Partnership to End Malaria partners. Target Malaria shared how they were breaking biases and uplifting fellow women scientists to help end malaria.
For World Malaria Day, we shared how 40+ of our researchers were innovating to end malaria, from our entomological studies to molecular biology and stakeholder engagement.
The World Mosquito Day campaign was a month-long social media educational campaign using the #MosquitoCountdown, sharing daily facts about malaria mosquitoes and malaria.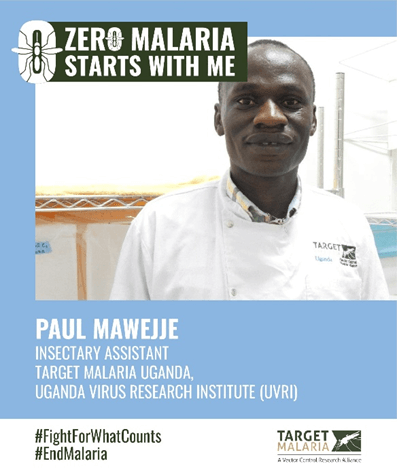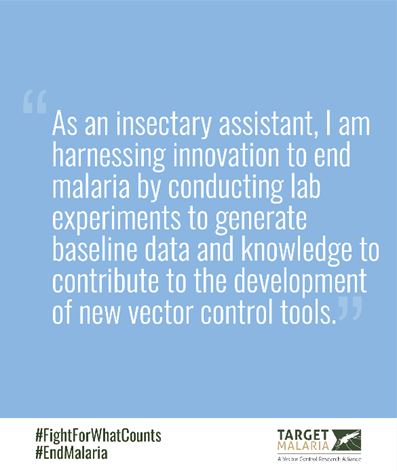 Finally, towards the end of the year, we participated in the Convention on Biological Diversity (CBD) meeting in Montreal, where our representatives, in conjunction with others, were instrumental in setting up a formal "Major Group" representing Academia and Research, and organising a side event reflecting on interactions between gene drive developers and indigenous peoples.
The most recent World Malaria Report underscored the need for new tools in the fight against malaria. It noted that the African region continues to carry the heaviest burden with 234 million cases in 2021. This is an unacceptably high number considering malaria is a preventable and treatable disease. However, an exciting pipeline of new tools ranging from new vector control tools, to drugs and vaccines provide us with hope.
On this note, I would like to thank all those who are continuously working towards the goal of ending malaria – project members, partners in the malaria community, stakeholders and communities. With our combined efforts, we can end malaria within this generation.
Wishing you a happy and healthy 2023.
Footnotes
i Vitale M, Leo C, Courty T, Kranjc N, Connolly JB, Morselli G, Bamikole C, Bernardini F, Fuchs S. 2022 Comprehensive characterisation of a transgene insertion in a highly repetitive, centromeric region of Anopheles mosquitoes. Pathog. Glob. Health 21:1-11. https://doi.org/10.1080/20477724.2022.2100192
ii Pollegioni P, Persampieri T, Minuz RL, Bucci A, Trusso A, Di Martino S, Leo C, Bruttini M, Ciolfi M, Waldvogel AM, Tripet F, Simoni A, Crisanti A, Müller R. 2022 Introgression of a synthetic sex ratio distortion transgene into different genetic backgrounds of Anopheles coluzzii. Insect Mol. Biol. 17. https://doi.org/10.1111/imb.12813
iii Yao FA, Millogo AA, Epopa PS, North A, Noulin F, Dao K, Drabo M, Guissou C, Kekele S, Namountougou M, Ouedraogo RK, Pare L, Barry N, Sanou R, Wandaogo H, Dabire RK, McKemey A, Tripet F, Diabaté A. 2022 Mark-release-recapture experiment in Burkina Faso demonstrates reduced fitness and dispersal of genetically modified sterile malaria mosquitoes. Nat. Commun. 13:796. https://www.nature.com/articles/s41467-022-28419-0
iv Batume C, Akol AM, Mukwaya LG, Birungi J, Kayondo JK. 2022 Life-history attributes of juvenile Anopheles gambiae s.s. in central Uganda: implications for malaria control interventions. Med. Vet. Entomol. 36:212– 222. https://doi.org/10.1111/mve.12568
v Connolly JB, Mumford JD, Glandorf DCM, Hartley S, Lewis OT, Evans SW, Turner G, Beech C, Sykes N, Coulibaly MB, Romeis J, Teem JL, Tonui W, Lovett B, Mankad A, Mnzava A, Fuchs S, Hackett TD, Landis WG, Marshall JM, Aboagye-Antwi F. 2022 Recommendations for environmental risk assessment of gene drive applications for malaria vector control. Malaria J. 21:152. https://doi.org/10.1186/s12936-022-04183-w
vi Tonui WK, Ahuja V, Beech CJ, Connolly JB, Dass B, Glandorf DCM, James S, Muchiri JN, Mugoya CF, Okoree EA, Quemada H, Romeis J. 2022 Points to consider in seeking biosafety approval for research, testing, and environmental release of experimental genetically modified biocontrol products during research and development. Transgenic Res. Oct 4:1–17. https://link.springer.com/article/10.1007/s11248-022-00311-z
vii Connolly JB, Romeis J, Devos Y, Glandorf DCM, Turner G, Coulibaly MB. 2022 Gene drive in species complexes: defining target organisms. Trends Biotechnol. Jul 19;S0167-7799(22)00167-6. https://doi.org/10.1016/j.tibtech.2022.06.013
viii Roberts AJ, Thizy D. 2022 Articulating ethical principles guiding Target Malaria's engagement strategy. Malaria J. 21:35. https://malariajournal.biomedcentral.com/articles/10.1186/s12936-022-04062-4
ix Pare Toe L, Dicko B, Linga R et al. 2022 Operationalizing stakeholder engagement for gene drive research in malaria elimination in Africa—translating guidance into practice. Malaria J. 21:225. https://malariajournal.biomedcentral.com/articles/10.1186/s12936-022-04241-3
x Pare Toe L, Barry N, Ky AD et al. 2022 A multi-disciplinary approach for building a common understanding of genetic engineering for malaria control in Burkina Faso. Humanit. Soc. Sci. Commun. 9:117. https://www.nature.com/articles/s41599-022-01122-7
xi Guissou C, Quinlan MM, Sanou R, Ouédraogo RK, Namountougou M, Diabaté A. 2022 Preparing an insectary in Burkina Faso to support research in genetic technologies for malaria control. Vector Borne Zoonotic Dis. 22:18-28. https://pubmed.ncbi.nlm.nih.gov/34995157/
xii Quinlan MM, Mumford JD, Messori S, Enkerlin WR, Shimura J, Bishop S, Smith L, Dass B, Oliva CF, Nelson C, Chand R, Torres G. 2022 Issues and gaps in international guidance and national regulatory systems affecting international live insect trade. Rev. Sci. Tech. 41:198-210. https://pubmed.ncbi.nlm.nih.gov/35925620/
xiii Simoni, A. 2022 Movement of genetically modified insects for research purposes. Rev. Sci. Tech. 41:100-106. https://pubmed.ncbi.nlm.nih.gov/35925632/
xix Nignan C, Poda BS, Sawadogo SP, Maïga H, Dabiré KR, Gnankine O, Tripet F, Roux O, Diabaté A. 2022 Local adaptation and colonization are potential factors affecting sexual competitiveness and mating choice in Anopheles coluzzii populations. Sci. Rep. 12:636. https://www.nature.com/articles/s41598-021-04704-8