Community Engagement
In the villages and around our insectaries, we use culturally appropriate communication tools that are co-developed by the communities and the teams in local languages taking into consideration stakeholders' preferences.
We also work closely with linguists to make sure that terms are adequately translated in local languages. So, in addition to French and English, the national stakeholder engagement teams interact with stakeholders in the many languages that exist in the countries where we operate.
Stakeholder Engagement Visuals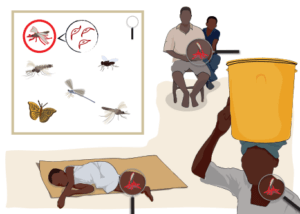 The visuals are used by the stakeholder engagement teams as a support tool when they are explaining the project to communities in the field sites. They help illustrate key messages to be delivered about the project starting from how malaria is transmitted through mosquito bites to mosquito biology and genetic approaches.
These animations describe different entomological methods. They are used by our teams in Burkina Faso and Uganda on tablets to explain entomological activities to field site communities in local languages. They are also used when some of these activities require individual household consent from residents of participating communities to let the teams enter their homes to collect mosquitoes.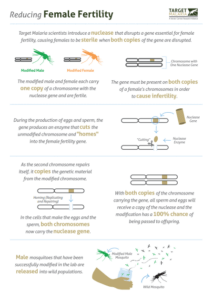 Posters provide infographic material in a large format.
They have been used during open days at the insectary or in scientific symposia at our partner institutions.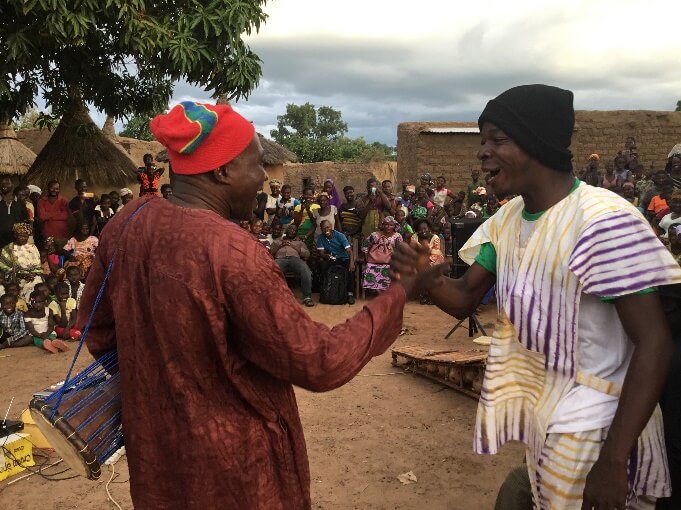 In Burkina Faso, the project works with a theatre company to share information about different phases of the project to a wide community. The plays feature characters representing various types of stakeholders and Target Malaria staff and are meant to provide answers to commonly asked questions and to share new information about next steps in the research or results from past activities.
Microprograms are audio series that are distributed through radio broadcast. They have been used in Burkina Faso. They can take different formats, like generic announcements about project activities or updates, or they can also be narrations with scripted content similar to the theatre play. This particular microprogram is set in a health centre and features a nurse, a health care worker, and a member of Target Malaria. Together, they discuss the problems relating to malaria in the country and the need for innovative tools.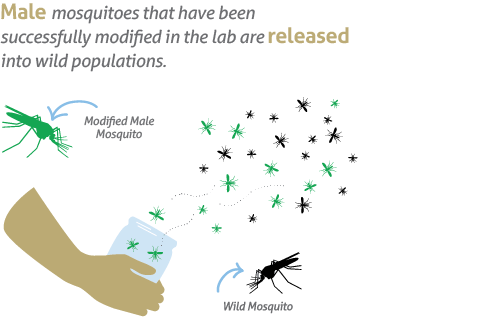 Infographics easily visualize complex information and data. We use them to explain the science behind the project, for instance how gene drive technology works and the different development phases of the technology at Target Malaria. You can find many examples of these on our website.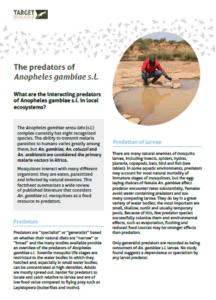 Many factsheets are available on our website. These documents are also used to engage with stakeholders looking for technical and expert information about the project. They offer simple, clear and factual explanations of key principles, activities or concepts.
Target Malaria has a YouTube page and a collection of videos on our website. Those include:
Voices from the field: this series features stakeholders who share their personal views on the project and how they have partnered with our teams on site.
Interviews with our team members: a selection of interviews with Principal Investigators and researchers.
Insectary virtual tours: you can visit four of our insectaries in Burkina Faso, Italy, the United Kingdom and Uganda. You get to meet the researchers conducting studies in the insectaries and labs, get to see the mosquito colony, and observe how research is carried out and how security and safety protocols are put in practice.