Ethical principles guiding Target Malaria's engagement strategy
Posted 8th February 2022 by Aaron J. Roberts
I am delighted that our paper on articulating the ethical principles guiding Target Malaria's engagement strategy has been published in Malaria Journal.
Since gene drive is a novel technology, there are currently few best practices available for guidance in terms of stakeholder engagement. We wrote this paper with the aim of adding to the growing literature regarding stakeholder engagement strategies for gene drive research.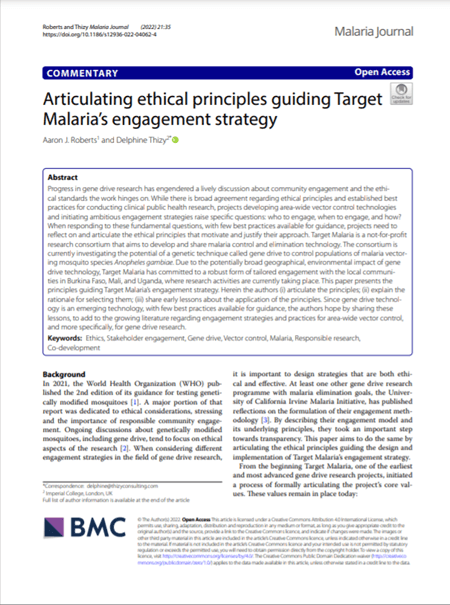 In 2021, the World Health Organisation updated its guidance for testing around genetically modified mosquitoes, and highlighted the ethical considerations, stressing the importance of community engagement. This paper is intended to showcase Target Malaria's commitment to openness and accountability around stakeholder engagement practices.
The principles that Target Malaria uses to guide its engagement are: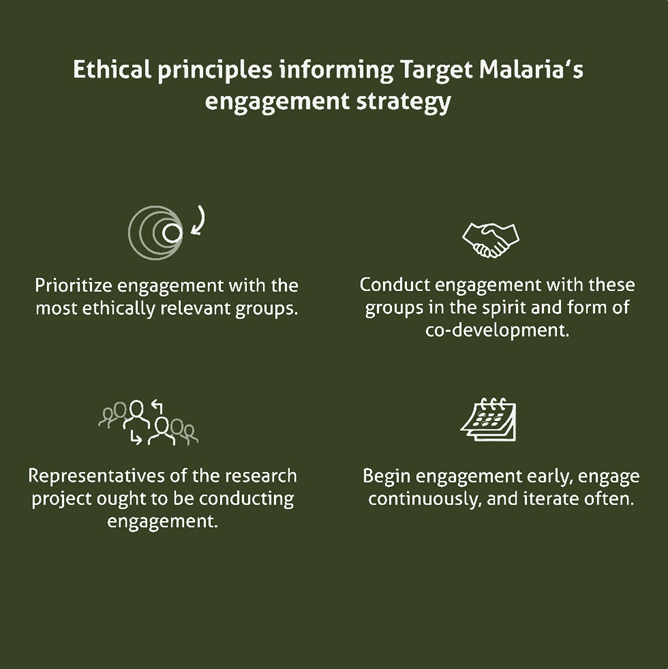 These principles provide an ethical structure for decisions relating to Target Malaria's engagement strategy and practices. To date, progress on Target Malaria's scientific research remains in the early stages of its phased approach, with the goal of an environmental release of gene drive modified mosquitoes still years away.
Who does Target Malaria prioritise in engagement activities?
In our paper, we outline that different stakeholders must be engaged proportionally to their ethical relevance to the processes and results of the project.
We noted that the most ethically relevant communities will evolve throughout the project in relation to activities.
Target Malaria's engagement strategy embodies its commitment by prioritising the most ethically relevant groups: communities that experience the malaria burden. These communities are often rural, geographically isolated, and have limited access to formal education and public health facilities. This poses an added challenge to ensuring that relevant communities are equipped and empowered to make informed decisions. The ethical values of accountability, respect for persons, and justice continue to motivate Target Malaria to ensure that these communities are in a position to make informed decisions on whether, how, and when the project should proceed.
How is Target Malaria engaging stakeholders?
Co-development underpins Target Malaria's ethical approach to engagement. Co-development can be summarised as the process by which parties working together towards a common goal practice their partnership through continued conversation and mutual cooperation. In our paper, we highlight the importance of acknowledging how co-development differs case-to-case, as well as cross-culturally.
Who is engaging stakeholders?
We argue that internal project representatives should conduct engagement activities, noting Target Malaria's multidisciplinary team integrating stakeholder engagement, communication, and community engagement specialists. Target Malaria's engagement work is led by social scientists and engagement practitioners from the countries where engagement occurs.
When does Target Malaria conduct engagement?
Co-development requires engagement with potentially affected communities at a very early stage to avoid both the perception, and the possibility of a reality, where co-development only began once most of the decisions had already been made. Working with communities requires a step-by-step engagement process to build their understanding of the nature of the science employed by the project so they can make legitimately informed decisions about it.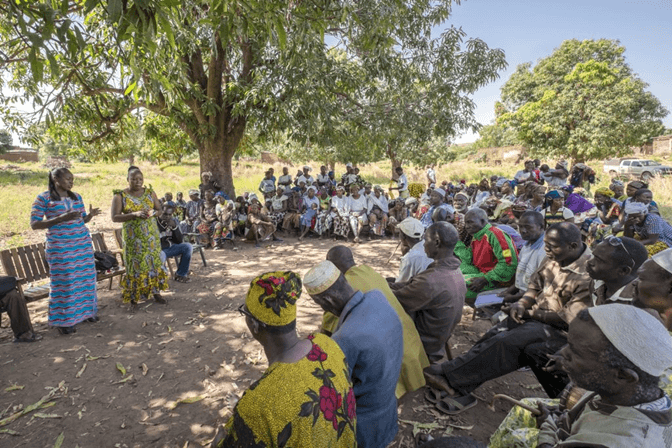 This paper aims to articulate the principles guiding Target Malaria's engagement strategy, to explain the rationale for selecting these principles, and share some early lessons about their application.
We hope that sharing the ethical foundations supporting Target Malaria's engagement strategy will inspire further discussion in this area for other research projects, particularly those in applied global and public health.