International Youth Day: Innovation for malaria elimination
Posted 11th August 2021 by Aissata Sanogo
On August 12, we commemorate International Youth Day, an occasion to acknowledge and highlight young voices, actions and initiatives. On this day we celebrate all young ambassadors, researchers, healthcare workers and mobilisers who are leading the agenda in support for public health and contributing to the fight to end malaria through their work.
These young people are motivated in their daily activities by unique personal experiences which originally ignited the passion that drives them in their work today. Personally, I was emboldened to join the fight against malaria after my mother contracted the disease and fell critically ill. What began as a mere headache, deteriorated quickly into a fever and vomiting. Fortunately, my mother pulled through this challenging moment thanks to prompt attention and care, yet I became acutely aware, through this event, of the threat that this preventable and treatable disease continues to pose.
According to the World Health Organization, there were 229 million cases of malaria and 409,000 deaths caused by the disease in 2019 alone. The African region, where I live, continues to carry a disproportionately high share of the global malaria burden, accounting for 94% of all malaria cases and deaths. I believe that my generation has the potential to change these statistics and that we, the youth of today, can play an important role to help end this deadly disease once and for all. I also believe that if we are to win this fight and stay ahead of the malaria parasite, investment in research and innovative strategies is paramount.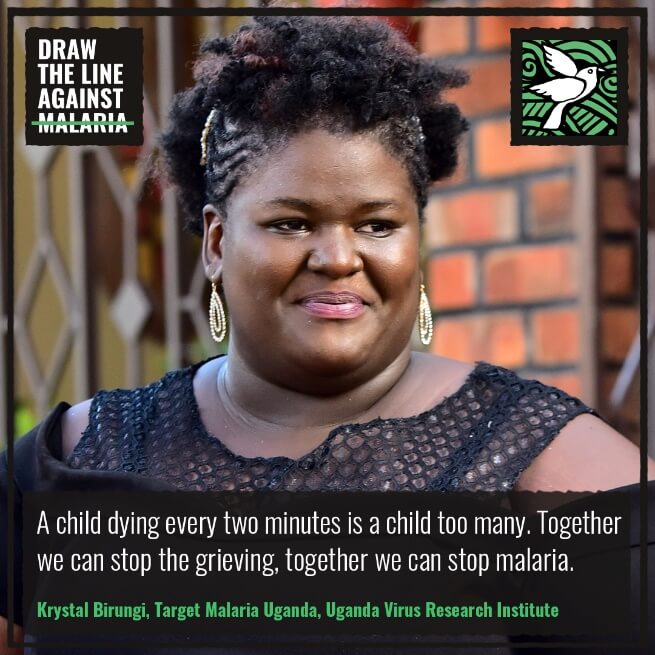 This is why I am excited to be working for Target Malaria and have the opportunity to actively join the fight against this preventable and treatable disease beside other young and early career researchers.  Our work is aimed at developing and sharing innovative tools for vector control which can be complementary to current efforts to end malaria. We are based in 11 different research institutions in  Burkina Faso, Cabo Verde,  Ghana, Italy,  Mali,  Uganda, the UK and the US and our research spans across different areas of expertise including entomology, molecular biology, anthropology, social sciences, mathematical modelling, and genetics. Although we have unique skills, cultures, and geographical locations, we share the single purpose of defeating malaria. 
This year, we took part in Zero Malaria's global Draw The Line Against Malaria youth-focused campaign, in order to raise awareness of the continued threat posed by this deadly disease and share our work to help make malaria a thing of the past. Alongside us, other young people across Africa and the world have joined the call and are coming together to demand fresh action to end malaria in a generation.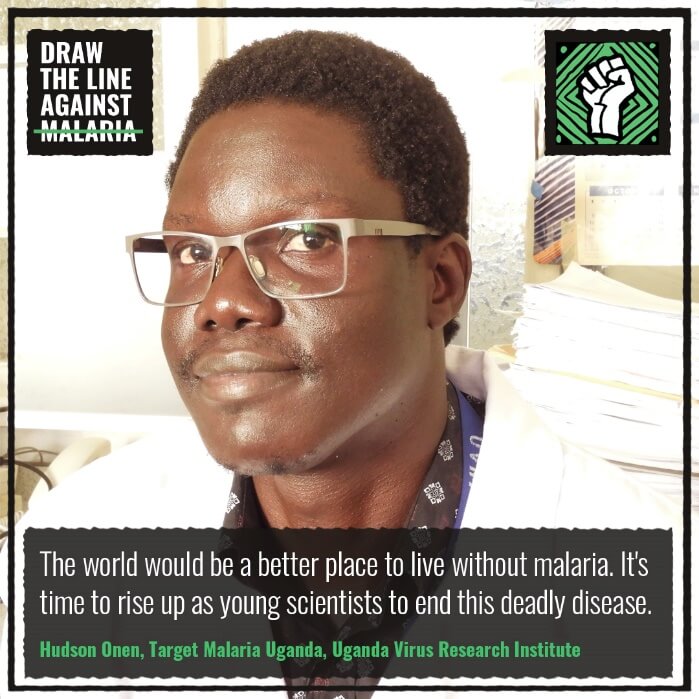 As progress in the fight against malaria continues to stall and the impact of the current COVID-19 pandemic puts the world at risk of losing further gains, continued support for research could be crucial to take the fight against this deadly disease forward. As a young female researcher, working alongside other international researchers, I am proud to be able to contribute to the fight through the development of innovative solutions for vector-control. As we celebrate International Youth Day, I am optimistic that as more young people participate in tackling health challenges through innovative strategies and cutting-edge research, we can look forward to a brighter tomorrow where malaria, and other diseases ravaging the world today, have no place.