Highlights from the PAMCA Conference in Addis Ababa
Posted 11th October 2023 by Divine Dzokoto
From the 17th to the 21st of September, the Pan-African Mosquito Control Association (PAMCA) held its annual conference in Addis Ababa, Ethiopia on the theme: 'Reorienting Surveillance and Management in the Context of Emerging Threats of Disease Vectors'.
The conference brought together vector control professionals from all over Africa and the world. It highlighted the importance of collaboration and innovation on the pan-African level to bring an end to vector-borne diseases. Target Malaria was in attendance with team members based in Burkina Faso, Ghana, Uganda and the UK working on entomology, molecular biology and engineering, stakeholder engagement, communication and more.
Prior to the main Conference, two trainings on gene drive took place, with Target Malaria team members facilitating and organising. The aim of the gene drive short course (3 days) and the foundation course (1 day) was to provide the basic technical understanding of gene drive technologies, and also cover public acceptance, regulatory issues and ecological concerns.
Throughout the Conference, several Target Malaria team members exhibited, led presentations and took part in panel son stakeholder engagement, entomology and molecular biology.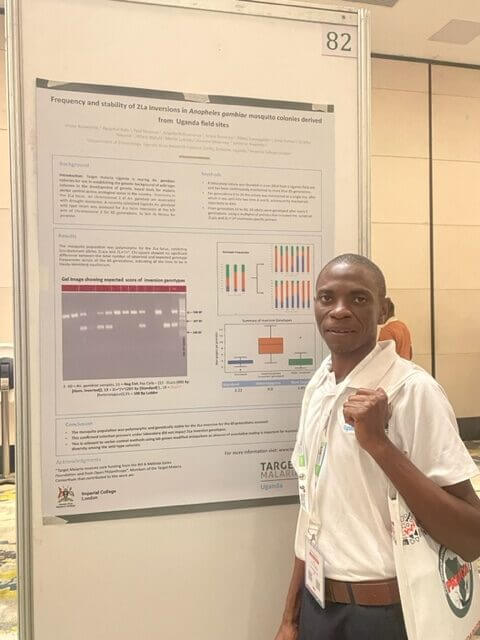 Victor Balyesima of Target Malaria Uganda at the Uganda Virus Research Institute presented his poster showcasing his study on the adaptability of mosquitoes in their environment, by looking at the frequency of the 2La inversion in chromosomes.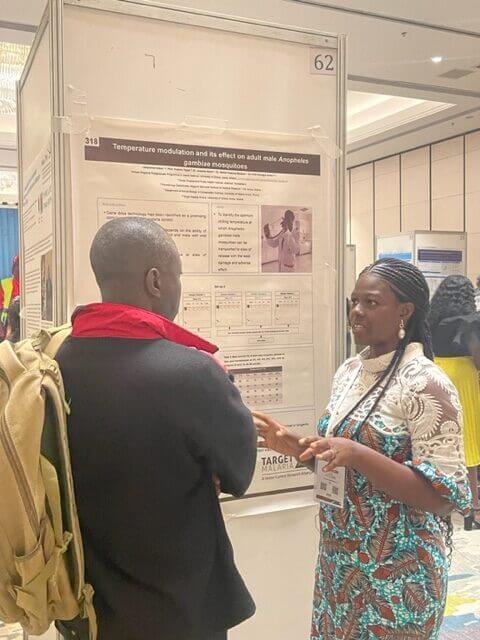 Jacqueline Aidoo of Target Malaria Ghana at University of Ghana presented her poster on temperature and its effect on adult male Anopheles gambiae mosquitoes. Jacqueline's study was to help find the optimum temperature to transport gene drive mosquitoes. This is part of the Ghana team's work on mosquito rearing and male fitness studies of Anopheles gambiae.

Thomas Gyimah of Target Malaria Ghana at the University of Ghana presented a poster on the investigation of Anopheles gambiae as an effective plant pollinator. His study contributes to our understanding of the possible ecological impacts of suppressing Anopheles gambiae mosquito population.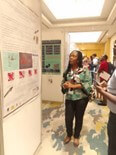 Afia Serwaa Karikari of Target Malaria Ghana at the University of Ghana presented a poster on the influence water parameters have on Anopheles gambiae larvae and their cohabiting fauna. Her study contributes to our understanding of the possible ecological impacts of the suppression of the Anopheles gambiae mosquito population.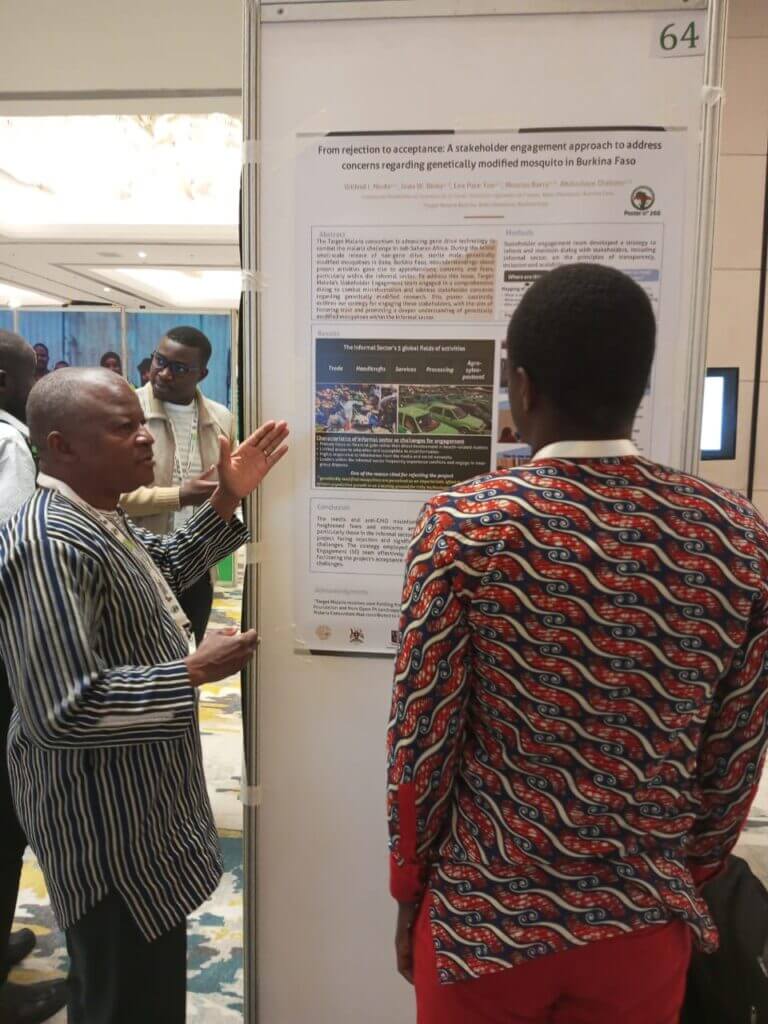 Wilfrid Meda of Target Malaria Burkina Faso at the Institut de Recherche en Sciences de la Santé presented his poster on stakeholder engagement approaches to address concerns regarding genetically modified mosquitoes in Burkina Faso.
Dr. Ace North, based at the University of Oxford, presented modelling studies on the potential impact of gene drive mosquito releases in West Africa. He highlighted models showing how gene drive has the potential to suppress mosquito populations and reduce malaria transmission. On a similar topic, Dr. Penny Hancock gave a presentation on designing gene drive field trials to detect their impact on malaria vector populations using modelling data.
In a panel on social science and its role in research, Dr. Lea Pare Toe and Dr. Alexandre Quach discussed the importance of social scientists being involved with scientific research from the very beginning, noting that it must be seen as an essential part of scientific development.
Ending on an inspirational note, Professor Sir Tumani Corrah said "The future of science in Africa rests on the shoulders of the young scientists."