A dual perspective on targeting malaria vectors 
Posted 1st September 2023 by Angella Nakamaanya and Roger Sanou
Target Malaria works across eight partner institutions in six countries, including in Burkina Faso and Uganda. Two of our colleagues from these countries recently shared their perspectives on their work for a piece published by the Outreach Network for Gene Drive Research. The Outreach Network raises awareness of the value of gene drive research for public good, bringing together researchers from different groups around the world.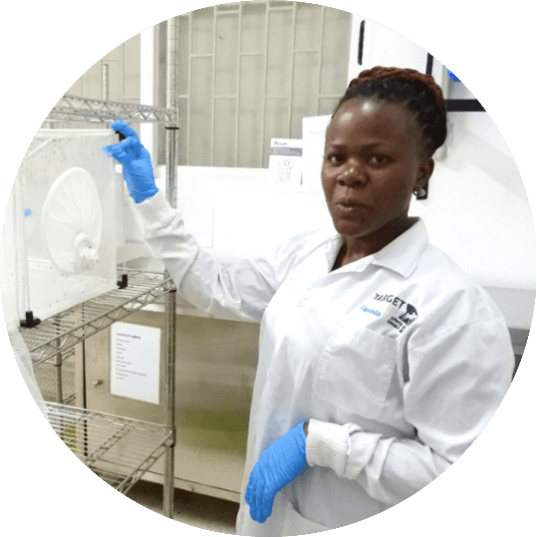 "Malaria is becoming more resistant to current control methods and is resurging in many countries. This is extremely worrying, and we must find new and additional ways to tackle this disease and help create a malaria-free world."
"As a mother of two living in Uganda, I am well aware of the challenges and sorrow that malaria can bring. My children have frequently experienced persistent malaria that is resistant to the available treatments. Malaria has always been a present threat in our society, and it often results in financial stress for families and leads to children missing school.
The resistance of malaria parasites to current antimalarial drugs triggered my desire to further understand the biology and behaviour of Anopheles mosquitoes which are the vectors for malaria.
By working with Target Malaria as an Insectary Assistant, I discovered that malaria can be managed by tackling its root cause: the Anopheles mosquito. At the insectary, we study these mosquitoes' behaviour and collect data to inform the development of innovative genetic technologies to reduce malaria transmission. These technologies could be used as a complementary tool to the existing interventions currently deployed in Uganda and other malaria endemic countries. "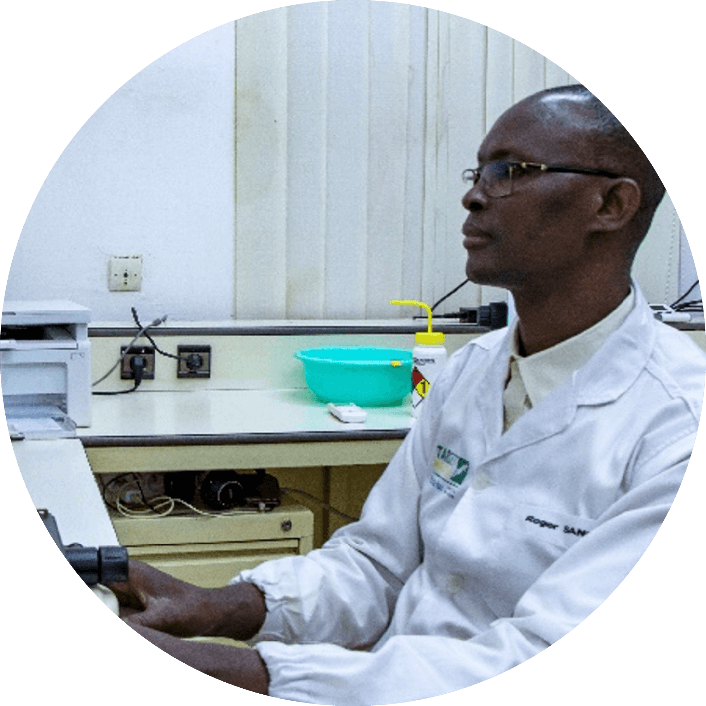 Roger Sanou, Insectary Manager, Institut de Recherche en Sciences de la Santé (IRSS) 
"It's time to innovate and focus our scientific research to deliver zero malaria to the world, for a safe and better life without malaria."
"Malaria is a major public health issue in Burkina Faso, where I live and work. Beyond the huge health burden it creates, malaria imposes a heavy economic burden on individuals, families and the entire country. To address this issue, I decided to contribute to the scientific research being conducted to find new tools that could help eliminate the disease in my country, in Africa and in the world at large.

I am currently working as an entomologist and insectary operating manager for Target Malaria at the Institut de Recherche en Sciences de la Santé (IRSS) / Centre Muraz, where I study malaria mosquitoes and oversee the operations of the insectary. Our research is focused on the development of genetically modified mosquitoes that could one day be used as an additional tool to reduce malaria transmission and help address growing issues of resistance to current malaria-control tools."
Angella Nakamaanya and Roger Sanou shed light on the urgent need for scientific innovation and collaboration in tackling malaria. Together we can make significant strides towards a world where malaria no longer poses a threat to the health and well-being of communities worldwide.