Celebrating World Health Day
Posted 7th April 2021 by Dr. Agapitus Kato
April 7 marks the celebration of World Health Day. Over the past 50 years, this day has brought to light important issues such as mental health, the role of nurses and midwives and the importance of universal health coverage. This year's theme is "Building a fairer, healthier world". As COVID-19 has highlighted, the disparities between those who are able to live healthier lives and have better access to health services and those who don't are too broad. These are entirely due to the conditions in which one is born, grows up, lives and works. On this World Health Day, the World Health Organisation is calling for action to eliminate health inequities and ensure that all people are  able to access quality health services when and where they need them. 
Having personally experienced the hardships that come from lack of access to medical treatment and diagnostics, I am proud to add my voice to the WHO's call today. Growing up in Uganda – which according to data from the latest World Malaria Report carries one of the highest global burdens of malaria – I experienced malaria on a regular basis. I remember when my twin sister fell ill with a persistent form of the disease, was forced to drop out of school prematurely and barely made it alive. At the time, lack of access to diagnostics meant we did not know she was suffering from drug-resistant malaria. Because preventative measures, such as bed-nets, were not widely available, we could also not use these in our home.
Whilst in secondary school I was infected with Tuberculosis. TB diagnosis and treatment was also not easily accessible where I lived, and the illness forced me to spend two whole years out of school. It took more than six months for my disease to be diagnosed, after which I endured a protracted period of treatment both in and out of hospital. Access to this treatment was expensive and represented a substantial financial burden for my family. 
Surviving TB and witnessing the suffering caused by other preventable diseases such as malaria, convinced me to pursue a career in medical studies. I wished to save lives, as mine had been saved. Following a Master's degree at the London School of Hygiene and Tropical Medicine, I completed my PhD studies in Zoology between Makerere University in Uganda, Yale University in the US and Pavia University in Italy. I also participated in health promotion campaigns such as the CDC/WHO STOP Polio and Measles campaigns in Ghana and Ethiopia.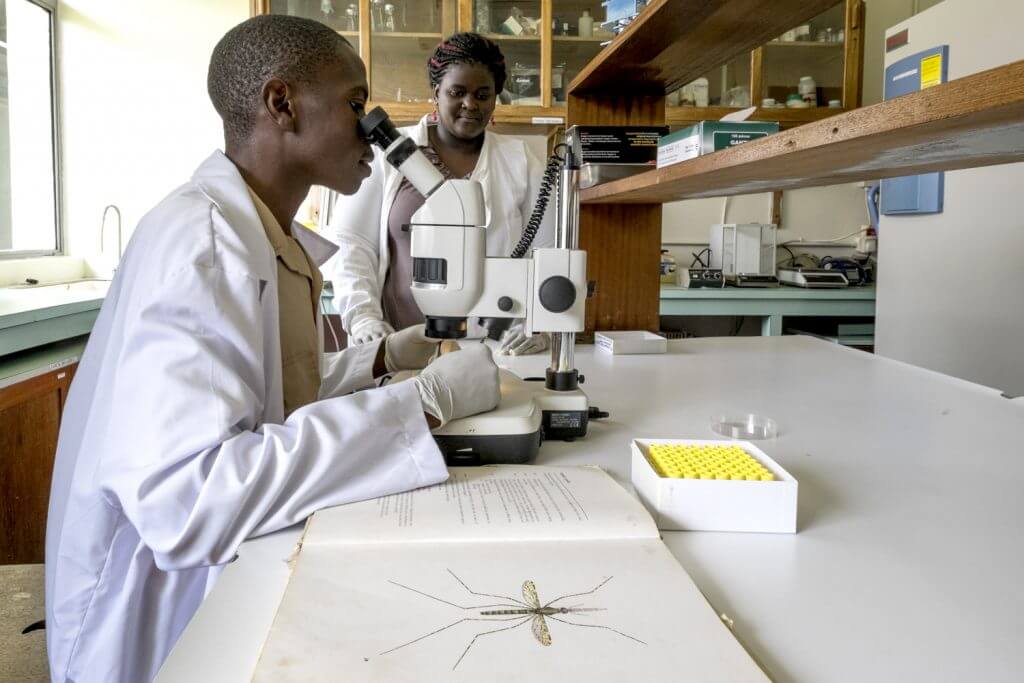 I am now a medical researcher and work as Entomology Lead for Target Malaria Uganda at the Uganda Virus Research Institute. Through my research I have gained a good understanding of disease vectors and their host-pathogen interactions. My studies have led me to realise the importance of researching new biological methods for the control of vector-borne diseases.
Although access to efficient health services in Uganda has now improved, with the country running a nation-wide bed net coverage campaign and a variety of effective malaria drugs freely available, much work is left to be done.
Uganda still accounts for 5% of malaria cases globally and the disease remains the leading cause of death, especially amongst children. An effective multi-pronged approach to tackle malaria is needed.
In combination with stronger health systems and investments in more equal access to malaria diagnostics and treatment, the broader adoption of bed nets and drugs, the development of new vector control tools, such as the one Target Malaria is researching, could help step up the fight against this deadly disease.
On this World Health Day, join the call for a better, fairer, healthier world. Happy World Health Day to all those who dedicate their lives and careers to fighting preventable diseases and improving everyone's health!