Reshaping Nature through Gene Drives – A Podcast
Posted 24th November 2020 by Dr Aboudaye Diabaté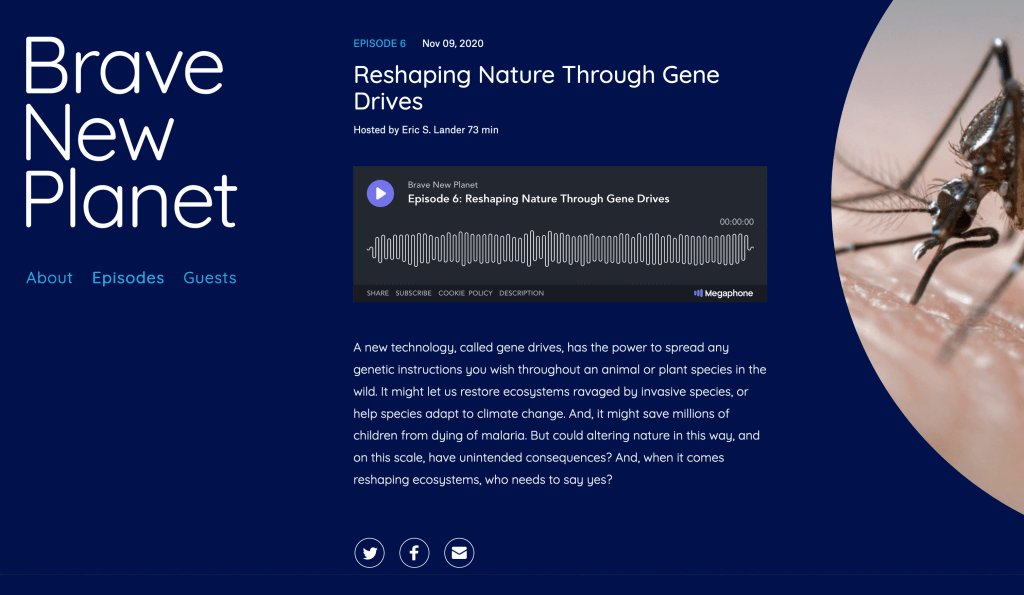 Eric Lander is a Professor of Biology at Harvard Medical School and Founding Director of the Broad Institute of MIT and Harvard. He launched this month a new science podcast series entitled Brave New Planet. Hosted in partnership with Pushkin Industries and the Boston Globe, Brave New Planet is a podcast about amazing new technologies looking at their potential impact and considering their inherent risks. Eric Lander talks to leading researchers, journalists, doctors, policy makers, activists, and legal experts to illuminate how this generation's choices will shape the future as never before. 
Professor Austin Burt and myself were invited to speak on episode 6 launched on November 9, 2020 about gene drives "Reshaping Nature Through Gene Drives". Bringing together scientists and journalists, the episode reviews the potential applications of this genetic technology to restore ecosystems and save millions of children from dying of malaria. It also brings the views of those who consider the technology dangerous.     
The other speakers were:
Natalie Kofler, Founding Director, Editing Nature
James Collins, Ullman Professor of Natural History and the Environment,
Arizona State University
Kevin Esvelt
Director, Sculpting Evolution group,
MIT Media Lab
Dyann Wirth
Professor of Infectious Diseases,
Harvard T.H. Chan School of Public Health
Zahra Moloo
Investigative Journalist and Filmmaker
I believe this episode does a great job at engaging listeners in presenting gene drives: the science, the importance of the application, and the challenges, including consent. It also presents the opinions of proponents of the technology, like Austin and myself and opponents.
Eric Lander is a geneticist, molecular biologist, and mathematician who was a leader of the Human Genome Project and for eight years served as a science advisor to the White House for President Obama. In this podcast, he aims to discuss the compact between society and science and the importance of addressing facts and scientific evidence when debating solutions.  
I fully share Eric Lander's ambition to restore science's place in rational policy.