Providing a policy framework for responsible gene drive research
Posted 5th November 2021 by Delphine Thizy
Recent progress in the field of gene drive research means the prospect of gene drive organisms – such as genetically modified mosquitoes for vector control – being proposed for field evaluation is growing more likely. This raises new questions regarding existing policy frameworks for the regulation and governance of gene drive research and their adequacy. In this paper my co-authors –Isabelle Coche, Jantina de Vries – and myself reviewed the existing regulatory landscape to identify potential gaps and assess priority areas for further research in the field.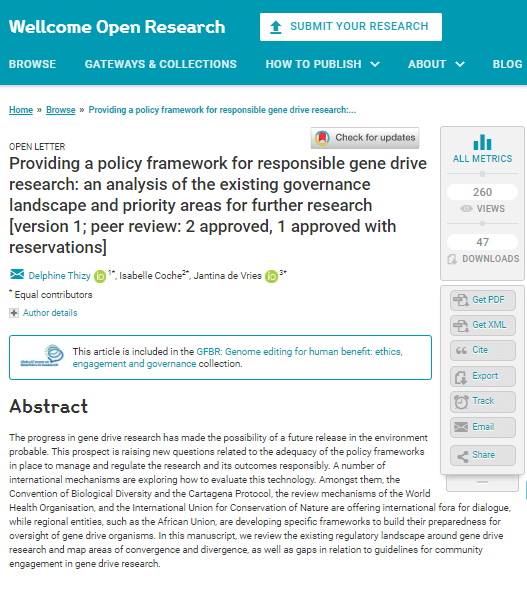 There are currently a number of international mechanisms exploring the governance of gene drive technology from different vantage points. Amongst them, the Convention of Biological Diversity and the Cartagena Protocol on Biosafety, the review mechanisms of the World Health Organisation, the International Union for Conservation of Nature and the African Union. When considered together, these mechanisms amount to a solid framework, however, they also present three important shortcomings.
Firstly, the growing number of organisations involved and their diversified approach means that there are issues of overlap, inconsistency and coordination.
Secondly, there is an absence of specific guidance relating to appropriate models for individual consent and community agreement before field evaluations related to gene drive research are conducted. Because gene drive organisms are "area-wide" in their application, individual residents in an area where a field evaluation is taking place are not in a position to opt-in or out. Rather, it is the community as a whole who needs to come to a decision about whether to allow a field evaluation to proceed or not. The current guidelines do not provide a clear framework on how this community agreement should be sought. Since the publication, WHO has published two relevant guidance documents providing an overall ethical framework for community agreement processes; these however remain broad and thus do not explicit what approach researchers should take.
Lastly, the potential benefits for the individuals and communities in which the research takes place are not clearly outlined. Because gene drive research is carried out over a period of years, and several years may pass before local communities who are engaged in the research are able to experience any tangible health benefits from implementation of the technology, potential benefits to communities participating in the research programmes in the near term, and how these can be provided should be made clear.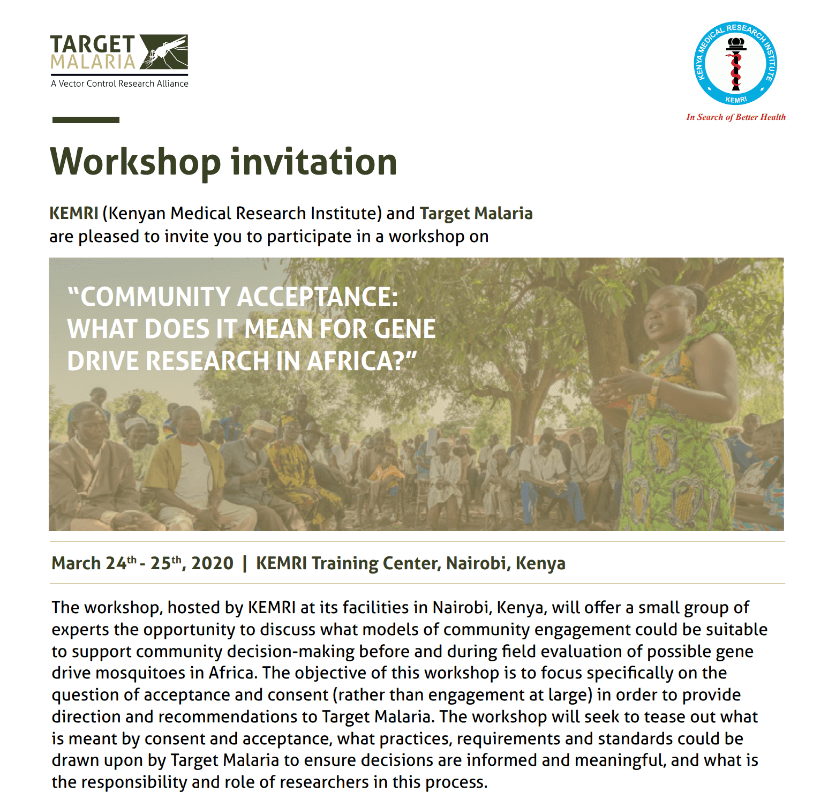 In order to address these issues, organisations should start by jointly considering each other's mandate and processes broadly, and ensure future decisions take into account each other's mechanisms and priorities. They should also work on developing inclusive and transparent guidance that sets out the principles for community-based decision-making. Finally, best practices and guidelines for what can be considered legitimate benefits to research communities should be established, in order to help researchers feel confident that their work is in keeping with standards for responsible research.
In line with these recommendations, Target Malaria is committed to conduct research according to the best standards and practices. In 2020, we held a series of workshops with experts on consent and agreement. The initiative, organised in partnership with Kenya Medical Research Institute and the Pan African Mosquito Control Association, aimed to provide direction and recommendations to the project's stakeholder engagement activities and was part of ongoing efforts to ensure that stakeholders in participating communities can provide feedback, raise questions, and support our research based on a sound understanding of our work. The workshop's key findings informed the project's iterative approach towards the development of a model for community agreement for the potential release of gene drive mosquitoes for research.
If we are to tackle major societal challenges, such as malaria, through gene drive research, it is imperative to ensure that such research is conducted in a way that is both ethical and inclusive.