My appointment as a Fellow to the African Academy of Sciences (AAS)
Posted 22nd February 2022 by Dr. Abdoulaye Diabaté
I am delighted to announce that I have been elected as a Fellow by the African Academy of Sciences (AAS) in recognition of my work and achievements. Founded in 1985, the African Academy of Sciences is a non-aligned, non-political, not-for-profit Pan-African organisation headquartered in Nairobi. Its vision is to see transformed lives on the African continent through science. This nomination follows a rigorous evaluation by the AAS Membership Advisory Committees in various fields of specialization, and criteria included publication records, innovations, leadership roles and contribution to policy and society.
I was trained as a Doctor of Animal Biology and Ecology at the University of Ouagadougou and obtained my PhD in parasitology from the University of Montpellier II (France) in 2003. I completed a post-doctoral fellowship 2005-2009 at the Laboratory of Malaria and Vector research at the National Institutes of Health (NIH) in the USA. My research focuses on population biology, ecological studies on phenotypic variation within and between populations of mosquitoes and analyses of its genetic and environmental sources. I am particularly interested in mosquito male biology and related transgenic and sterile male's approaches to control vector diseases.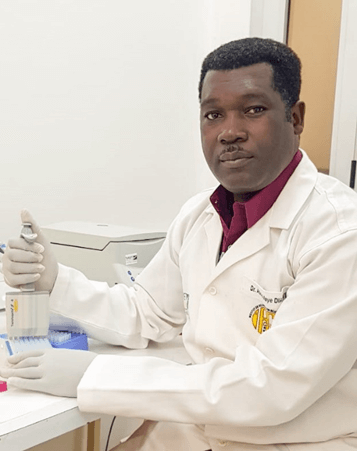 I have been invited to speak at several prestigious universities around the world, including Harvard University, to catalyse a lasting collaboration between IRSS and research centres globally. I received the Royal Society Pfizer award in 2013, was awarded the Grand Challenges Star in Global Health grant and the MRC/DFID African Leader Scheme grant. I have also been awarded by the Pan-African Mosquito Control Association for my contribution in medical entomology, and the "Chevalier des Palmes académiques" of the Government of Burkina Faso in recognition of my significant contribution in scientific research in Burkina Faso. I have been interviewed by several prestigious international and national media, including by the BBC, Netflix, the New York Times, and Burkina Faso's national TV channel.
The fight against malaria has always been a deeply personal battle for me, as my siblings, my children and I became repeatedly ill and nearly died several times from the disease. I now feel proud to be part of an inspiring community of scientists at the forefront of the battle against malaria. The 2021 World Malaria Report revealed that a child now dies every minute of malaria, highlighting the urgent need to end the suffering caused by this disease in Africa.
Continued research, innovation and excellence in science is needed across Africa, and I look forward to continuing to strive towards these values through my work with Target Malaria Burkina Faso, working towards our shared goal of a world free of malaria.