East African policy dialogue on research of genetically modified mosquitoes for malaria control and elimination
Posted 2nd December 2022 by Dr. Charles Mugoya
The East African Community Secretariat, in collaboration with the East African Health Research Commission; NEPAD, AFIDEP and IFAKARA Health Institute recently convened an East African regional dialogue in Dar es salaam, Tanzania from 17-19 November 2022 to deliberate the way forward on the legal and regulatory frameworks guiding research on genetically modified mosquitoes to solve the problem of malaria in the East African region. The dialogue was attended by legislators from the seven countries of the East African Community partner states – Kenya, Uganda, Tanzania, Burundi, DR Congo, Rwanda and South Sudan, policy makers, government officials, and health experts including biotechnology/biosafety regulators.
The dialogue provided an opportunity for updates on the ongoing research efforts on genetically modified mosquitoes in countries of the the East African Community region. The keynote presentations made covered (1) an overview of the legal and regulatory frameworks guiding research on genetically modified mosquitoes for malaria and (2) highlights of preparatory work for research on gene drive technology for malaria elimination by the Target Malaria and Transmission Zero project teams in Uganda and Tanzania respectively. Participants were informed by these research teams that gene drive technology was still under development and was not ready for field deployment. They were informed that it would take at least a decade or so before the technology was to be made available.
The meeting appreciated the promise of this novel technology and commended the Uganda and Tanzania research teams for leading the way by establishing research facilities while providing technical guidance on how to develop and test genetically modified mosquitoes within their boundaries. They pointed out that the transboundary biosafety policy, legal and regulatory issues as well as the intellectual property issues were important and needed to be handled at a political level to allow the non-participating countries also benefit from the technology as well.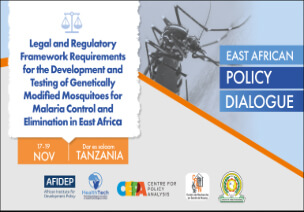 The meeting made recommendations for enhanced biosafety policy harmonization in the East African Community region through a common approach for the biosafety and environmental assessment of the genetically modified mosquito before the release. The discussion welcomed the initiative as game changer that was compatible with other existing approaches for malaria control. The meeting called for more research on safety and efficacy aspects of the technology and a robust stakeholder engagement to build trust and mitigate the negative publicity. In this regard, greater cooperation and collaboration among the biosafety competent authorities, environmental protection agencies and civic organizations was emphasized to facilitate better awareness raising, communication and decision making.