Disparities in malaria risk and resilience amongst rural populations in western Burkina Faso
Posted 19th May 2021 by Dr. Abdoul Azize Millogo
Burkina Faso, in West Africa, is among ten countries with the highest incidence of malaria in the world. According to the national Ministry of Health, the disease accounts for 43% of consultations with a health provider, over 60% of hospitalisations and 30% of deaths. In 2019, WHO noted that there were an estimated 7 million malaria cases in the country, and over 19,000 estimated malaria associated deaths.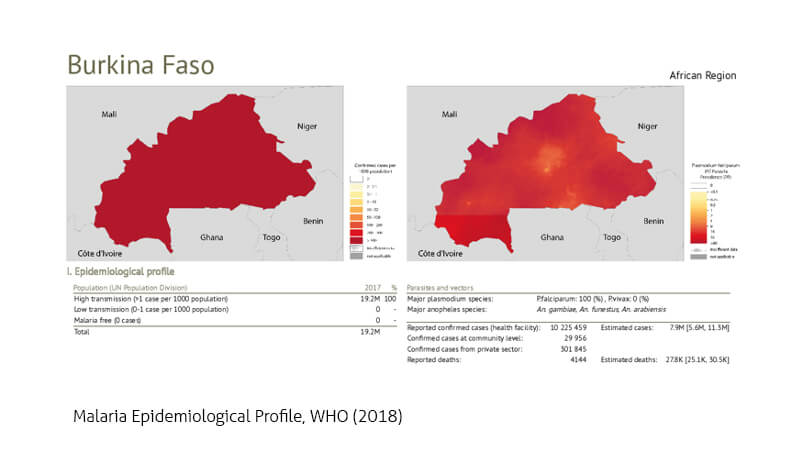 Although the disease is endemic throughout Burkina Faso, there are geographical and population differences which make the risk of exposure to the disease and its prevention variable. Understanding these patterns is important to analyse malaria exposure and develop effective strategies to control its transmission.
I recently defended my Health Geography doctoral thesis on the theme: "Disparities in malaria risk and resilience among rural populations in western Burkina Faso", conducted under the supervision of Professor François de Charles Ouedraogo, and the co-supervision of Dr. Lassane Yameogo, of the Université Joseph KI- Zerbo in Ouagadougou, Burkina Faso.
The aim of my research project was to analyse the resilience of rural populations in western Burkina Faso in the face of malaria. I used data from field surveys, as well as databases retrieved from local institutions and online. The data was processed and analysed using Geographic Information Systems (GIS), geostatistical analysis, spatial analysis, and data mining tools. Using a mixed approach, I was able to identify geographical variables associated with malaria, draw a malaria risk zone map for the province of Houet – located in the Hauts-Bassins region of Burkina Faso – and estimate the number of people living in different intensity risk zones.
At the community level, my research enabled me to identify the characteristics that contribute to making populations more vulnerable or more resilient to malaria. It also allowed me to identify a selection of strategies for malaria control and prevention.
Some of the key findings were:
Soil permeability significantly influences the spatial variability of malaria in western Burkina Faso. This factor must be taken into consideration in the development of preventive programs.
Western Burkina Faso populations have a strong tendency to sign up for health insurance. This could be a factor contributing to the longevity of the Universal Health Insurance Scheme in operation in the country. This also suggests that they can easily access healthcare when infected with malaria.
Community competence – which is defined as the collective aptitude of individuals to learn about their environment and use the information to collectively address issues – should support current efforts to control malaria.
In the face of stalled progress in the fight against malaria, WHO is calling for investment in innovation and the research & development of new approaches. This doctoral journey has allowed me to understand that additional research is needed to complement existing control tools, and that studying malaria endemic areas is crucial to achieve elimination of the disease.
The COVID-19 pandemic has taught us that humankind is at the heart of all disease control strategies. If we are to win the fight against this disease, we must also orient our future contributions towards building community competence and improving decision-making. GIS tools such as the ones employed during my research studies, could help to achieve these objectives.