Communicating science creatively at the Great Exhibition Road Festival  
Posted 22nd June 2023 by Stephanie Wilkes Moumtzis
It was wonderful to be a part of this year's Great Exhibition Road Festival, the annual celebration of science and the arts which takes place in South Kensington, London. The Festival brings together various institutions located on and around Exhibition Road, including Imperial College, the Natural History Museum, the Victoria & Albert Museum, the Science Museum and many others.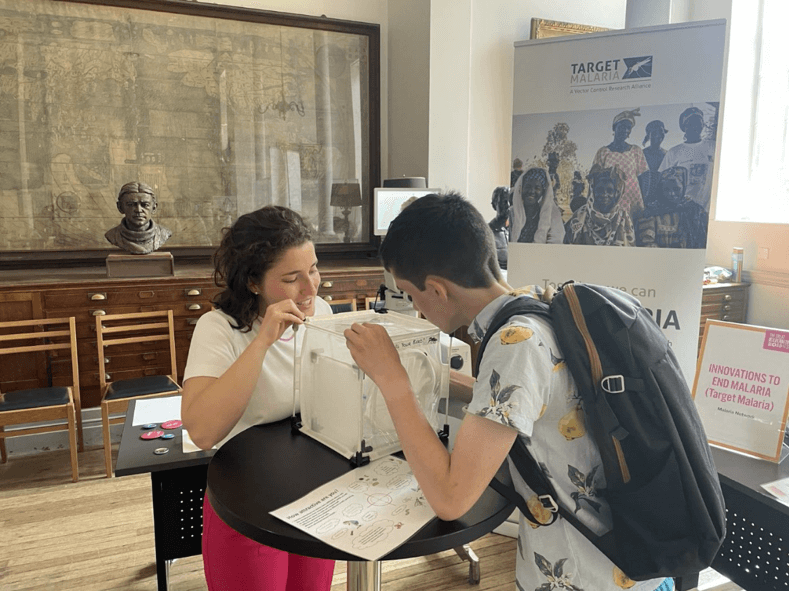 Giuditta Tancredi from the Target Malaria team identifies male and female mosquitoes in the cage
This year, Target Malaria's stand was in the historic Royal Geographical Society as part of the Creative Science Zone, an area designed to showcase innovative ways scientists can creatively engage the public about their research.
Target Malaria is researching genetically modifying mosquitoes through a technology called gene drive. We are investigating reducing populations of malaria mosquitoes, to reduce malaria transmission. In our communications team, we are exploring the different creative ways to convey complicated concepts (such as genetics) to audiences that do not have science backgrounds. This year's Festival was the perfect platform to test different approaches to this.
Exploring gene drive through sound & music
In 2018, the Target Malaria team at Imperial College London published a landmark paper in Nature Biotechnology. The study demonstrated how gene drive mosquitoes successfully suppressed a population of wild-type malaria mosquitoes, marking a significant milestone for gene drive technology as a tool for malaria elimination.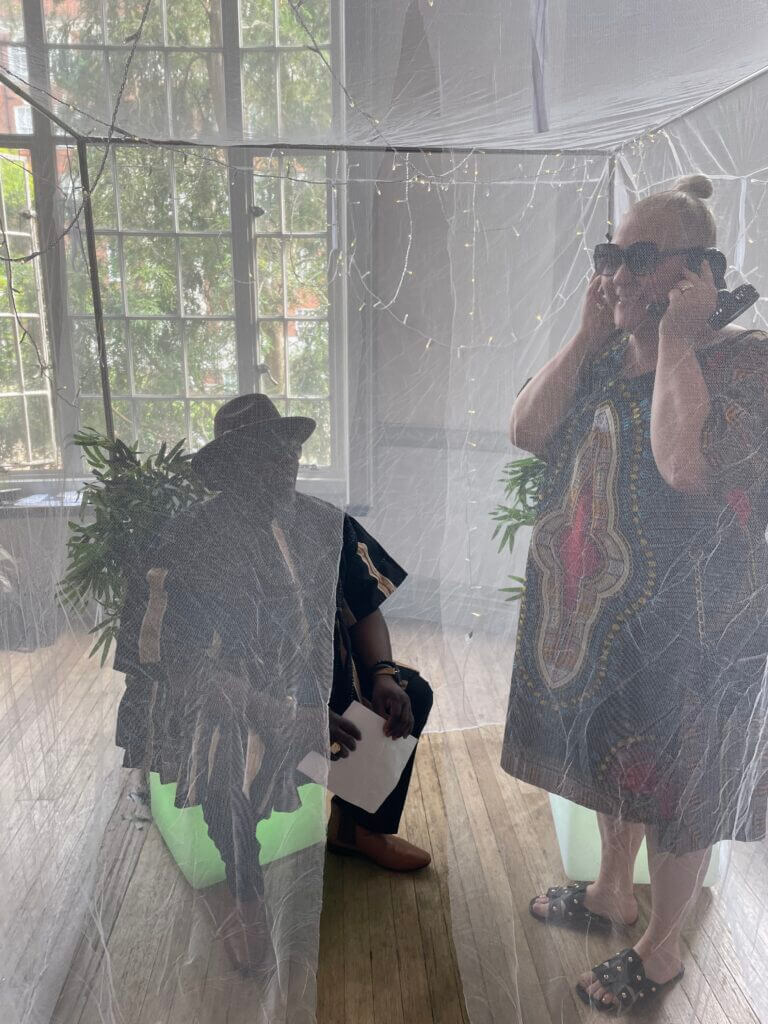 Visitors listen to the sonification under a mosquito net
Last year, our communications team collaborated with Jamie Perera, a London-based sound artist and composer specialising in sonification – an artistic practice that represents objects through sound. Jamie transformed data from our gene drive cage trials into a piece called "Swarm". We were delighted to showcase this sonification at an in-person event, where visitors could listen to it under a mosquito net, learning how gene drive mosquitoes could reduce populations of malaria mosquitoes.
Science communication through a card game
Visitors exploring the Target Malaria area had the opportunity to play our card game called Mozzie Drive. This game demonstrates how gene drive mosquitoes could serve as a vector control tool to reduce populations of wild-type malaria mosquitoes. Each round of the game consists of mosquito migration, mating, and gene drive releases. The first player to discard all their mosquitoes wins the game. This was a great alternative way of explaining how the technology could work.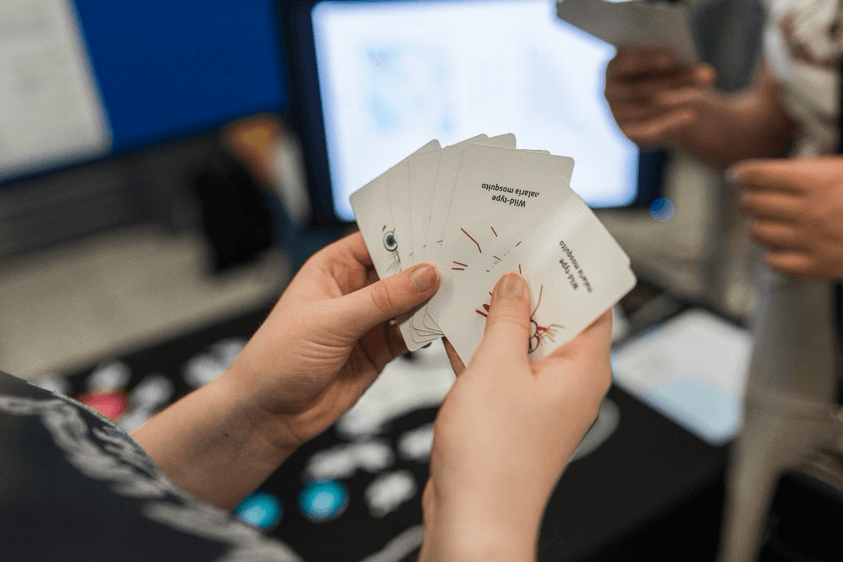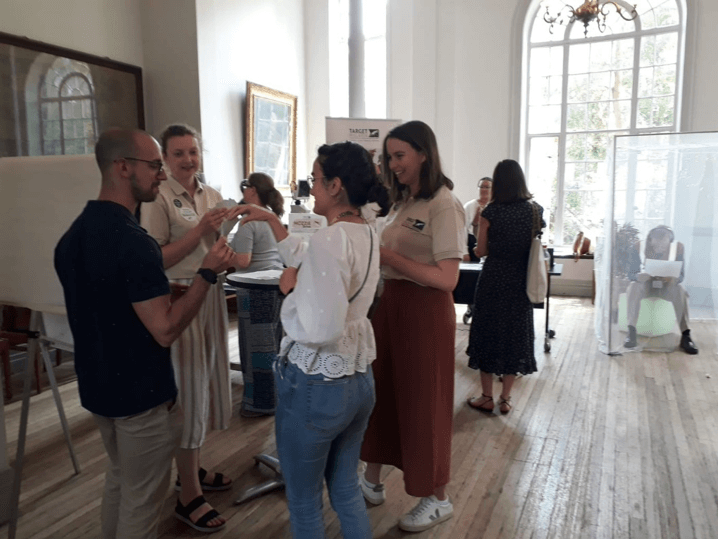 Face-to-face with live mosquitoes
Visitors had the chance to meet wild-type mosquitoes (safely within in a cage!). Our team highlighted the distinctions between male and female mosquitoes, and visitors could gauge the mosquitoes' interest by placing their hands against the cage's exterior and observing how many mosquitoes gravitated towards them.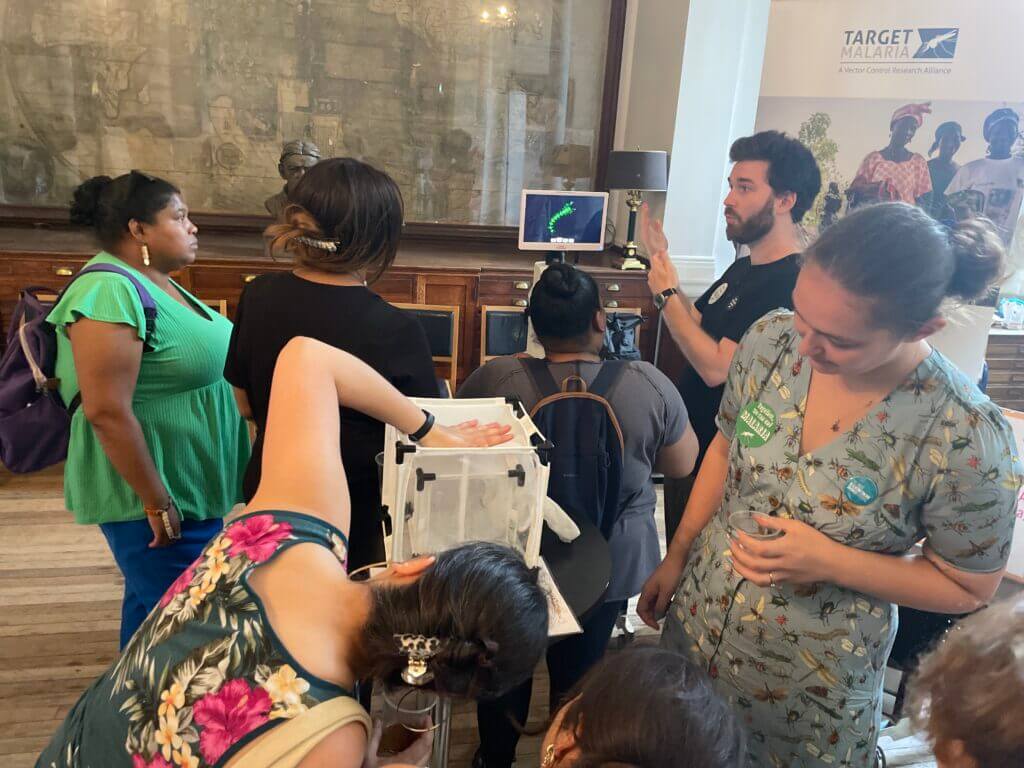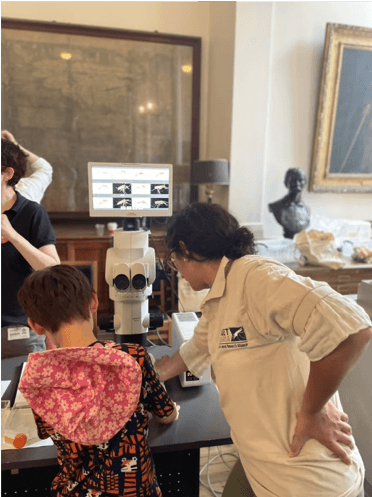 Our stand also featured a table showcasing the various life stages of mosquitoes, from larvae to pupae. Visitors could examine these larvae up close using a microscope from our lab.
The Festival proved a wonderful opportunity to showcase the work carried out by Target Malaria at Imperial College and beyond. Engaging with members of the public, answering their questions and seeing their interest in our research was really rewarding. It was especially great to see hopeful young scientists engage with our work, in particular young girls.