Capturing the Journey of Target Malaria Ghana: A Visual Narrative 
Posted 26th October 2023 by Fiona Wilberforce
As an Agency, our tagline is 'We Tell Your Story'. What we have come to discover is that not all stories are the same. The Target Malaria story is a different story. A different story because the work of Target Malaria and the solutions they seek to proffer have the potential to impact millions of children across Africa. What is also unique about this story is that it also looks at how the 'target' cannot only be about the mosquito, but an entire ecosystem.
And so, when Target Malaria contacted my agency, Lema Concepts, in Ghana, to tell this important story, we were nervous, the enormity of the task on our hands and the implications for the scientific community and the society in Ghana was going to be tremendous. This was unlike any other story. We imagined serious scientists working in sterile labs staring at microscopes the whole day. To our surprise, we found a vibrant community of young researchers and compassionate individuals who deeply cared about what they did. Every scientist we encountered from the Target Malaria Ghana team had a story. With Eva Ofori, one of the Technical Assistants, her experience with malaria has shaped her research and interest in contributing to malaria elimination. According to her, she had contracted mild to severe malaria throughout the years. On several occasions, she had to deal with anaemia which caused prolonged low haemoglobin levels, an extraordinary ordeal she has battled with over the years.  Each of the scientists took their work seriously because it extended beyond an intellectual curiosity. When we set up our cameras and microphones, and started the interviews, the narratives that emerged shocked us. To know that every year in Ghana there are 5.3 million cases of malaria, and over 12,500 deaths, shook us to our core. How can such a small insect, the Anopheles mosquito, destroy so many lives?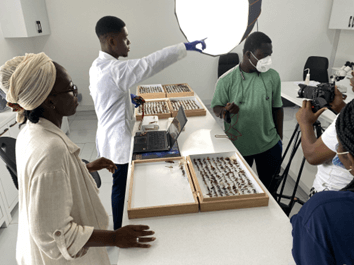 Target Malaria Ghana team being photographed by Lema Concepts.
What was unique about this particular project is that it extended beyond the lab. We went to interview mothers and community leaders who shared their harrowing experiences with Malaria in the Volta Region of Ghana. They all seemed to understand what was at stake. They valued the work of Target Malaria because with the findings better solutions could emerge with more lives being saved every year. 
This was a dream collaboration in every sense of the word. The scientists respected the communities they worked in. There was a wonderful sense of camaraderie in the team, where community members became collaborators and not merely passive observers.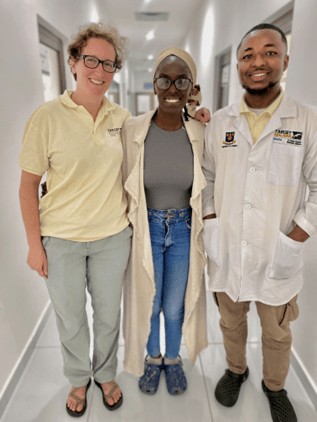 Fiona Wilberforce with Dr Talya Hackett and Bernard Adams.
Some of my team members were shocked at the audacity and the courage of the scientists. Catching geckos and birds to explore their dietary habits was not something we imagined that we would be capturing as creators. As our collaboration came to an end with Target Malaria, we have become better creators. We have come to appreciate that our actions do have an impact on the larger community. After all, a small Anopheles mosquito impacted the lives of birds and communities at large. This is something we learnt because of the 'one campaign'. We have become better creators and better storytellers thanks to this important collaboration with Target Malaria.