World Malaria Report: We saved millions, but we need to do more
Posted 30th November 2020 by Bakara Dicko
The World Health Organization is releasing today its annual World Malaria Report 2020. While the report gave many reasons to celebrate, the situation in Africa is not progressing like the rest of the world.  
Long-term investments in prevention, diagnosis and treatment programmes have paid off. In the last decade, 1.5 billion cases of malaria were prevented, and 7.6 million lives saved. Africa accounted for most of the averted cases (82%) and deaths (94%), followed by the South-East Asia region, with 10% and 3% respectively.
Since 2007, the World Health Organisation (WHO) has certified ten new countries as malaria-free. Some regions presented impressive results.
The Greater Mekong subregion – which includes Cambodia, Laos, Myanmar, Thailand, Vietnam, and China (Yunnan Province) – seems to be on the path to meet the goal of eliminating malaria by 2030. Between 2000 and 2019, the number of cases in the area decreased by 90%.
Progress in the past decades was only possible due to a combination of leaders' commitment at the local, national, and global levels, with strong international partnerships, as well as increasing efforts to develop and scale-up new tools.
However, it is not all positive news. In the past four years, the number of cases worldwide remained virtually unchanged: 229 million. Current trends indicate that the world is going to miss the 2030 cases target set by the Global Technical Strategy for Malaria 2016-2030 by 87%.
As progress continues to plateau, Africa is of particular concern due to its precarious healthcare systems and infrastructure. The region responds for approximately 90% of the world's malaria burden, with sub-Saharan Africa alone accounting for 70%.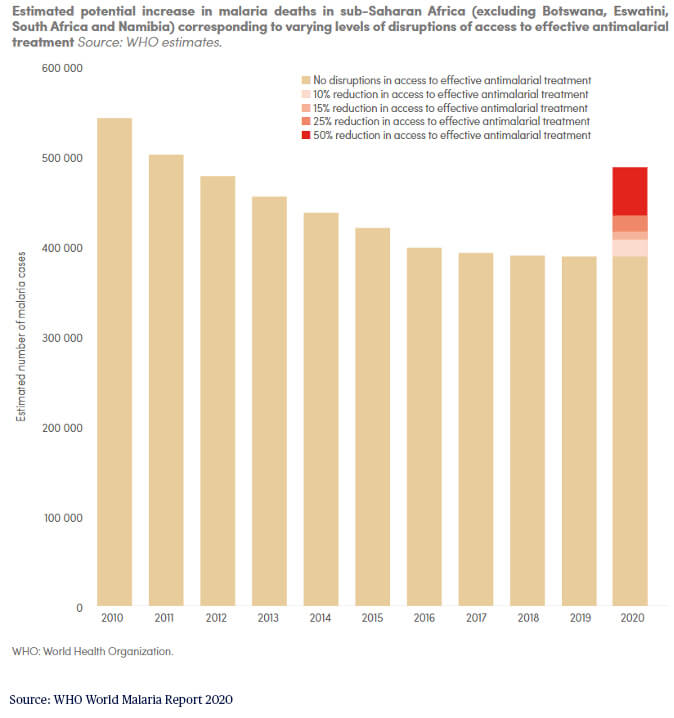 The COVID-19 pandemic presents a severe additional challenge worldwide, as resources and attention have been diverted to combat the virus. Nevertheless, malaria patients are afraid to seek treatment at hospitals. According to the WHO, in sub-Saharan Africa alone, if access to antimalarial treatment is disrupted by 25% to 50%, it could lead to 46,000 to 100,000 additional deaths.
The report points to significant challenges to eradicating malaria once and for all. The funding shortfall observed in 2019 poses substantial threats to future progress. From the expected target of USD 5.6 billion, investments to fight malaria summed only USD 3 billion. Resistance to insecticides and drugs continue to increase, and these methods do not reach all those at risk. Even when they do, there is no guarantee that they will be used correctly and frequently.
In other words, bed nets and indoor spray will not save us. We need new tools if we want to achieve a malaria-free world! This is one of the key messages of this year's report, and I am thrilled to see the WHO once again supporting science and research.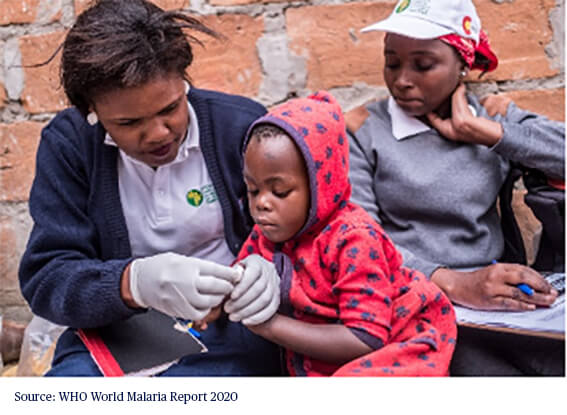 "Continued investment in research and development is needed to develop the tools required to stay ahead of resistance and the other effects of biological selection pressures", said WHO.
We cannot let a preventable and treatable disease claim hundreds of thousands of children's lives each year. If current tools are not enough, we need to invest in research for new ones to change the disease's trajectory and meet the agreed targets.
Gene drive could be a cost-effective, sustainable, and long-term solution tool, complementing methods already in place. Gene drive mosquitoes should be part of the integrated worldwide anti-malaria effort, as stated on the WHO recent position statement.
According to the RBM Partnership, "with ongoing commitment, optimized use of current resources and new investments, we can deliver on the promise of ending malaria within a generation". At Target Malaria, we choose to believe that a malaria-free world is possible, and we work tirelessly to achieve it.